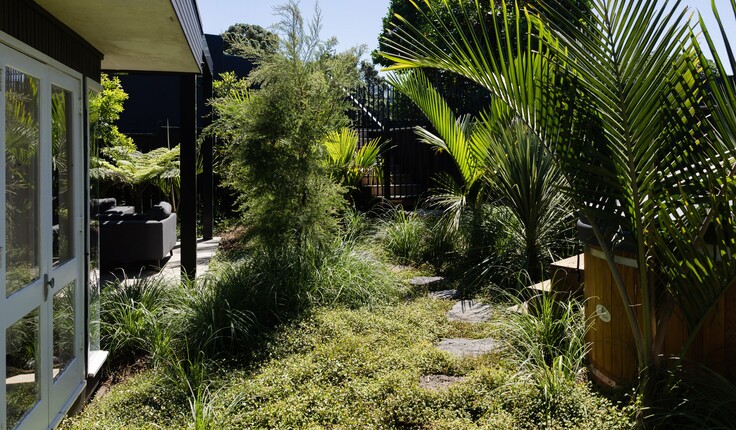 A central Auckland residential garden with a commitment to sustainability and biodiversity is a striking addition to the Morningside streetscape.
We first visited the site in early 2021 as part of our occasional project profile series. Then, the landscape architect behind the project told us it was for a family wanting to create a native sanctuary while treading lightly on the land around their home.
When we met Richard Neville of Neville Design Studio at the finished garden this autumn he told us he is really excited with the completed garden.
"It's an extensive project, one which unfolds as you walk around it. It's a garden best experienced in person," he says.
He also credits his clients with the garden's success. "I've been lucky in that they share a similar ethos and that is 'how can we work with the land, with the contours, with plants, natives, diversity while celebrating nature and inviting it on to the site.
He says in some ways this work is unusual as there is no lawn especially as the family has three young boys.
"That's a deliberate decision. The site is volcanic with various level changes. A lawn was possible … but ecologically lawns are monocultures. We have a really diverse garden, almost all native with a couple of non-natives threaded into the plant palate including the edibles and herbs."
The images below show a before (left) and after view of a part of the garden with slopes down to the road.
Richard is really excited with the way it has come together "It's been a nice evolution with the client and the landscapers have done a great job so I'm very happy. You can see more from him in the video below.
Design - Neville Design Studio
Build - Murphy Landscapes
Photography - Scott Sinton and Richard Neville