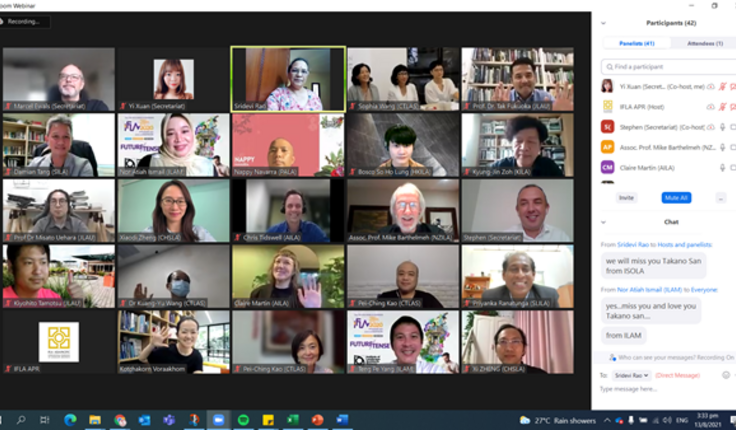 It was a busy week for Zoom, with virtual meetings over three days to enable NZILA participation in both the IFLA Asia-Pacific Region (APR) Council meeting, and the IFLA World Council meeting.
The IFLA APR Council meeting
It was held first on 13 August, opening with a recorded message from the retiring president Fumiaki Takano. Takano-san was unable to attend in person due to illness, but he was very positive about the significant role that landscape architects have to play in a Covid-19 world. We are sad to report that Takano-san passed away peacefully on 31 August; we were privileged to have him as our regional president for those two years.
The meeting marked another milestone for the APR, with not only delegates in attendance from every one of the 14 associations in our region, but also observers from six other nations in our region who are yet to join IFLA. Two of them are in a good position to join IFLA soon, with Bangladesh and Mongolia already having their own landscape associations. Both are now working towards ratifying constitutions based on the IFLA model, to enable their applications to become full members of IFLA. That will automatically make them members of the APR and we look forward to seeing their delegates at our council meeting this time next year.
IFLA APR election outcomes
We are pleased to be able to report the official outcomes of our 2021 election cycle, welcoming Monica Kuo from CTLAS in Taiwan for a two-year term as our next IFLA APR President. Monica is the Chair and Dean of the Department of Landscape Architecture in the Environmental Planning & Design College at the Chinese Culture University in Taipei. In the manifesto accompanying her nomination for the president's role, Monica noted that 'PEACE' would be the benchmark for her tenure: Passion, Ecology, Aesthetics, Creativity, and Ethics. Chris Tidswell, from AILA, was elected to the Honary Secretary position; Mike Barthelmeh had completed the maximum of two, two-year terms and gratefully passed that baton to Chris. To complete the Executive Committee line-up, Kuang-Yu from CTLAS continues for another term as Treasurer. 
As previously reported, two of our standing committee chairs were elected to continue for their second two-year terms: Chair, Communication and External Relations (CER) Committee, Mr Bosco So Ho Lung (HKILA), and Chair, Finance and Business Planning (FBP) Committee, Mr Damian Tang (SILA), while two other chairs were standing unopposed and so also continue for their second two-year terms: Chair, Education and Academic Affairs (EAA) Committee, Xi Zheng (CHSLA), and Chair, Professional Practice and Policy (PPP) Committee, Takanori Fukuoka (JLAU). In regard to our two active working groups under the PPP committee, Kiyohito Tamotsu (JLAU) was elected as Chair of Landscape Architects Without Borders (LAWB) for his first term, and Claire Martin (AILA) continued as Chair of the Climate Change committee. Claire has been seeking wider membership for her committee from all of the associations which are part of the APR; Matthew Bradbury has agreed to join the Climate Change committee on behalf of NZILA.
Legacy initiatives
Part of Takano-san's legacy was to initiate two further matters for the APR. The first was for an advisory group, which has been formed to provide advice to the Executive Committee or the President as required, with membership of the committee formed from those with specific expertise in the areas of advice sought. Past President Damian Tang (SILA) has agreed to take on the role of chairing that committee. The second initiative was to establish a President's award, to recognise exceptional service in furthering the aims or undertaking outstanding management of the APR. We were very pleased to hear that Damian Tang was announced as being the initial recipient of the award. Damian has undertaken an amazing range of work for the region, including establishing and running the APR awards for the past four years (putting the region on a sound financial footing), setting up the Young Landscape Architect Alliance (YLAA), and managing the student design competitions run in conjunction with the annual council and congress meetings. Note: that it is free to join the YLAA and gain new contacts with other young professionals around our region… check the IFLA APR website for details.
Standing Committee reports
The four Standing Committees reported on their activities; more detail will be available from the APR website once the minutes have been confirmed by Executive Committee. If you are keen to join any of those committees, they would welcome your input, so please contact the chairs direct. The chair of CER reported on a successful year with the e-communication strategies developed with our secretariat, noting we now have over 12,000 subscribers to the monthly newsletters (available each month on the NZILA website). Bosco made a call for suggestions on further topics for the newsletter's focus editions, so again please contact him direct if you have any ideas.
The chair of EAA has begun connecting with programme heads across the region to develop further education initiatives and is keen to connect with all of them, if possible. He reported on a virtual simulation platform hosted by Beijing Forestry University, an education resource that is now available to all, with quite a bit of English language content - although the tutorial video needs a good understanding of Mandarin. 
The chair of FBP presented a series of strategies to strengthen the financial foundations of the APR, but we are in an excellent position at the moment, sufficient for the Executive Committee to call for requests for funding projects in our region that will have a big impact for a small investment. That is a great situation to be in. Finally, the chair of PPP reported on a series of ideas for regional webinars towards professional development. He will work with our secretariat and the chair of CER to develop a monthly schedule which will be circulated as soon as it is available.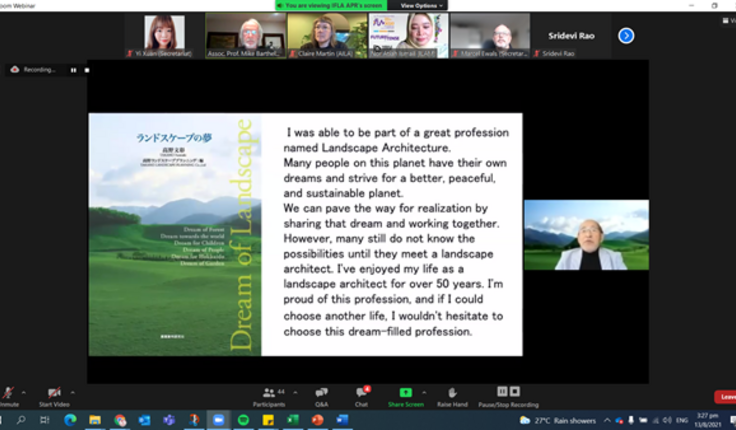 The Climate Change working group sits under the PPP umbrella, and it is great to see such an active group planning a large number of activities over the next 12 months. The chair is keen to have her working group have greater prominence on the APR website, to highlight the significance of the challenges facing our profession but also to promote action undertaken and accomplishments achieved by the group. The LAWB working group similarly considered the importance of global engagement with their planned activities for the next year.
IFLA World Council meeting
The IFLA meeting was held over two days on 16 and 17 August, beginning at the challenging time of midnight in NZ on both days. It was the second virtual council meeting held by IFLA and like the regional meeting ran very smoothly. There were over 60 delegates and observers in attendance to hear President James Hayter remind participants about the global role of IFLA and the relationship between IFLA committees and working groups to the 17 UN Sustainable Development Goals. He noted that IFLA had three key foci for the next planning period: excellent governance, key services to members, and raising the profile of the profession. These would be advanced by focusing on the big picture, establishing further networks and advocating for the values at the core of our profession.
James was followed by the treasurer Jeremy Dennis, who reported that IFLA finances were now in good health. He confirmed that the governance review of IFLA will continue, to enable recommendations to be made to council on a series of reforms, including the development of an operational manual in conjunction with a review of the existing by-laws. The other key committee,  Education and Academic Affairs, reported on a plan towards enabling equitable access globally to quality landscape education programmes. A working group under that committee has been driving capacity-building in landscape education in locations where the profession is not as strong as it is in NZ, including CPD for practitioners and enhancing teaching capabilities for educators.
To support these initiatives, the world council endorsed the Plan IFLA document, which has been updated to guide the focus of IFLA for the next two years.
Next Council and Congress meetings
Updates were provided by delegates on the IFLA and IFLA APR council and associated congress meetings over the next few years:
Year         World Meeting and Congress           Regional Meeting & Congress
2022        South Korea (KILA)  - 31/8 to 3/9         Combined
2023        Kenya + Sweden joint hosts/date?     Japan (JLAU)  - Autumn
2024        Turkey (PMD)  - date?                           Chinese Taiwan (CTLAS) - Nov
2025        Not yet allocated                                  India (ISOLA) possibly
 
Virtual World Congress
The day following the world council meeting, the Institute of Landscape Architects Malaysia (ILAM) opened the 2020 IFLA World Congress titled Future/Tense. (This was postponed from last year but they decided to refer to that original date.) It was the first virtual world congress held by IFLA, with live broadcasts over five days, featuring 26 speakers and 70+ videos to download. Access to the content is available to the end of September for all registrants, since it was too much to assimilate over just five days! The meeting was brilliantly choreographed by ILAM, a credit to all involved given the logistics of running a large event across the whole world and across so many different time zones.
One of the highlights was listening to Martha Schwartz talking passionately about climate change, making a plea for atmospheric modification to slow down the rate of temperature increase. Other notable speakers included Prof. Kongjian Yu from China, Jack Clause from Kenya, and Prof. Sue Anne Ware from Australia. The congress included a student design competition (all three top prizes went to Chinese programmes…), a poster exhibition and a trade exhibition, as well as countless videos about Malaysia, Penang, and Georgetown, where we were all meant to be attending the event in person. There was also a live session hall, on-demand videos, and even branded merchandise for sale.
Hopefully this time next year we will be able to send you an update about the regional and world council meetings direct from Gwangju in South Korea. 2022 is significant for the Korean Institute, in that it marks their 50 year anniversary just like NZILA! Hopefully the golden jubilees for KILA and for NZILA are not on at the same time…
Finally, on the education front, both the Philippines (PALA) and Taiwan (CTLAS) have indicated interest in benchmarking their landscape programme quality assurance systems against the IFLA APR accreditation process over the next 12 months. We will provide a further delegate update to report on that progress in due course.